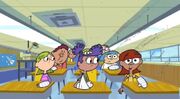 The
Short room
is on the 17th floor of
Wayside School
. It has a low ceiling & kids usually hurt their hands when they raise them.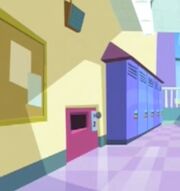 It appears in the movie & in the episode "Free Stewy".
In the movie, Todd helps the teacher & student by sawing the floor around their chairs lower so they can raise their hands
In "Free Stewy", Stewy lifts the ceiling with his hands & the teacher declares a party, that was until Stewy left & the ceiling fell back lower.
The seventeenth story was built too short. So was this article, but unlike the seventeenth story, this article can be fixed.

Click here to expand it!
Teacher and Students:
Unknown Teacher
Unknown Student#1
Unknown Student #2
Unknown Student #3
Unknown Student #4
Unknown Student #5
Unknown Student #6
Unknown Student #7